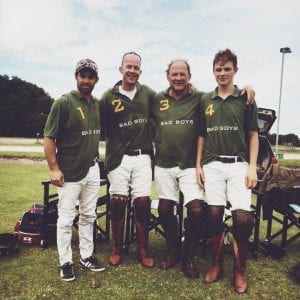 The Bad Boys 1854 are the legendary Polo team that is at home in the Bentheimer Polo & Country Club, making the polo fields in Germany, Holland and Belgium unsafe. The "Bad" in the name, of course, applies only to the place of origin "Bad Bentheim" …!
Always on the road in grass green colors, for a real bad boy it's all about the sport, never for the prestige. A Bad Boy plays fairly and quickly and rocks with as much passion the dance floor.
The polo team played for the first time in 1992 with Mathieu van Delden. Since 2014 the Junior Matu van Delden has joined the team. The Grafschafter Nachrichten have even reported his passion.
A Bad Boy can be female by the way…