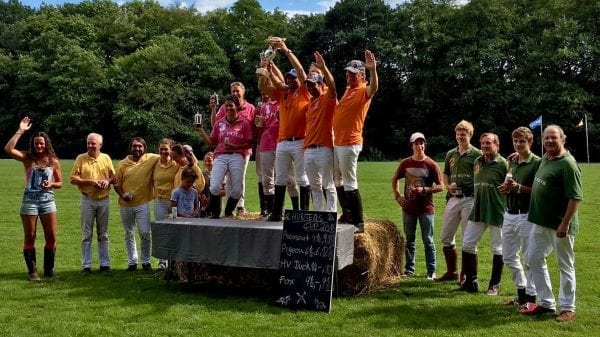 "Alice: This is impossible. The Mad Hatter: Only, if you believe it is"
Danke an alle wundervollen Spieler, Freunde und Famile, die mit uns ein unglaubliches Wochenende voller echtem Country Polo erlebt haben. Während des Hunters Cup 2016 in Bad Bentheim starteten die Spieler den Tag um 6:30, um zu jagen – und nicht jagende Spieler schossen Tontauben.
Die darauf folgenden Polo Spiele waren unglaublich schnell, fair und haben vor allem eine Menge Spaß gemacht.
Schlußendlich gab es zwei erste Plätze: Einer für den Gewinner des Polotuniers und einen Gesamt-Sieger (inklusive der Punkte der Jagd).
Wie immer in Bad Bentheim zeichnen wir nicht nur die Spieler für ihre Leistung aus, sondern vergeben auch Sonderpreise. Dieses Jahr wurde ein Preis für "sexiest Groom" verliehen sowie für die "best performance on the dancefloor".
Teams
Team Fasan (weiß)
Team Fox (grün)
| Spieler | Handicap |
| --- | --- |
| Sarah Schulte | -2 |
| Tina Hoedemaker | -1 |
| Detlev Kuhlmann | 0 |
| Hermann Burgstaller | 2 |
Team HV Duck (pink)
| Spieler | Handicap |
| --- | --- |
| Viktoria Wolfrum  | -1 |
| Maarten Hulsmann | 0 |
| Juan Medina | 3 |
| Kim Kolb | -2 |
Team Pigeon (schwarz)
| Spieler | Handicap |
| --- | --- |
| Benedict Querner | -1 |
| Matu van Delden | -1 |
| Wolfgang Kailing | 0 |
| Mathieu van Delden | 0 |
Impressionen des Hunters Cup 2016